NEW!!  Acoustic Solo and Band
(please click logo to link through to website & music)
LINDEN TREE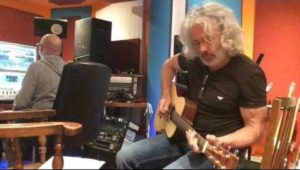 Psych'ish, modern rock folk songs.  Blues and country roots, with rock and Americana influences.
An EP to be completed this year (2018),  and also performing solo acoustic. And a bass player and drummer, for when more musical muscle is required.

Hugh playing a solo gig in 2015, at The Bullingdon, on Oxford's Cowley Road.

Hugh playing with the HM Band: Jeff Walker on drums, Steve Rollings on keys and Nathan Rainer on bass guitar. At the Fiddler's Elbow in London's Chalk Farm.